CHINESE DISCOVERED MOLOSSIA




The discovery a few years ago of a Ming Dynasty coin in modern Molossia raised the possibility that medieval Chinese mariners and explorers traveled to this remote location 584 years ago, during the year 1421. While it seems farfetched, certain threads of reasoning come together to bear out the possibility of Chinese explorers visiting our nation, long ago.

Before 1421

Of particular interest to Molossians is possible evidence that medieval Chinese mariners visited California. California has long been considered as a possible landfall for Chinese explorers. The Sung Document is a work of a Chinese author circa 1178, and states that Muslim sailors reached a region called "Mu-Lan-Pi", which has been claimed to be some part of the Americas — specifically present-day California. In AD 499, a Buddhist missionary, Hoei-Shin, came back from a long voyage and told of a strange people in a strange land -- 20,000 Chinese miles to the east. That would have put him right on the west coast of North America, possibly in the vicinity of modern Mexico. Hoei-Shin named the place Fusang, after a succulent plant he'd found in that arid land. The natives ate its roots and made wine from its sap. From its thick leaves they made cloth, rope, roof-thatch, and even paper. Hoei-Shin wrote about their society and customs -- all very unlike anything Chinese.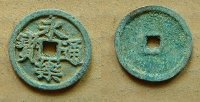 The Ming Coin Found in Molossia